When some of the world's major nuclear powers meet in Washington DC next Friday, they will be shadowed by the rising terrorist attacks– largely in Europe, the Middle East and Africa.

by Thalif Deen via Inter Press Service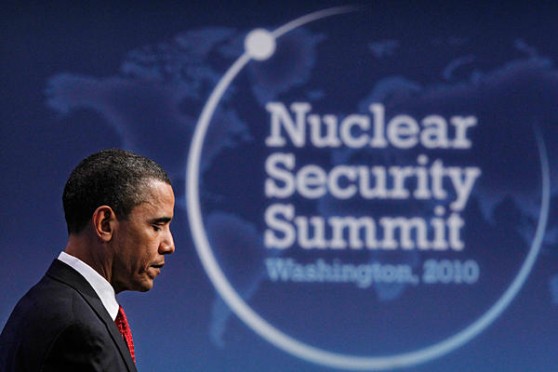 The 2016 Nuclear Security Summit, which will take place 31 March-April 1, will the fourth and final conference in a series initiated by US President Barack Obama in 2009 to address one key issue: nuclear terrorism as an extreme threat to global security.
According to the US State Department, the overarching theme of the summit meeting, to be attended by the world's nuclear leaders, is "the risk of nuclear or radiological terrorism and how nations can mitigate this threat."
Dr Rebecca Johnson, a London-based expert on non-proliferation and multilateral security agreements, told IPS the terrorist attacks that ripped through Brussels "tragically remind us that President Obama's key objective in setting up the Nuclear Security Summits was to prevent nuclear materials getting into the hands of anyone wishing to use them for nuclear or radiological weapons."
"As well as strengthening intelligence and transnational cooperation, I hope they won't forget that the risks start with the nuclear weapons in the arsenals of the nine nuclear-armed states".
These nine include the five permanent members of the UN Security Council –the US, Britain, France, China and Russia –plus India, Pakistan, Israel and North Korea.
Johnson said access to nuclear weapons and materials would be greatly reduced if governments would take bold steps to prohibit everyone from using and deploying nuclear weapons, along with activities like transporting warheads and nuclear materials.
This is one of the initiatives being discussed in a UN Working Group in Geneva this year.
"But the Obama administration appears determined to block any progress towards this nuclear security objective, which would put nuclear weapons on the same illegal, pariah footing as chemical and biological weapons," said Dr Johnson, who founded the Acronym Institute for Disarmament Diplomacy in 1996 after working as an activist and then analyst on the Comprehensive Test Ban Treaty (CTBT) negotiations
Dr M.V. Ramana, a physicist and lecturer at Princeton University's Programme on Science and Global Security and the Nuclear Futures Laboratory, told IPS: "As the last nuclear security summit during the Obama administration's term, I hope that the summit will not be an exercise in futility. Unfortunately, I don't think we should have any expectations of any dramatic breakthroughs".
To start with, he said, all the Security summits have been very narrowly focused on just civilian HEU (Highly Enriched Uranium). Occasionally there is some talk about plutonium, but this is more the exception than the rule.
The real big stockpiles of fissile material are the military stockpiles of highly enriched uranium and weapon grade plutonium that are possessed by countries with nuclear weapons, and the large quantities of reactor grade plutonium accumulated by countries that reprocess their spent fuel, he pointed out.
See full article here.